Written by Administrator
Wednesday, 01 December 2010 18:55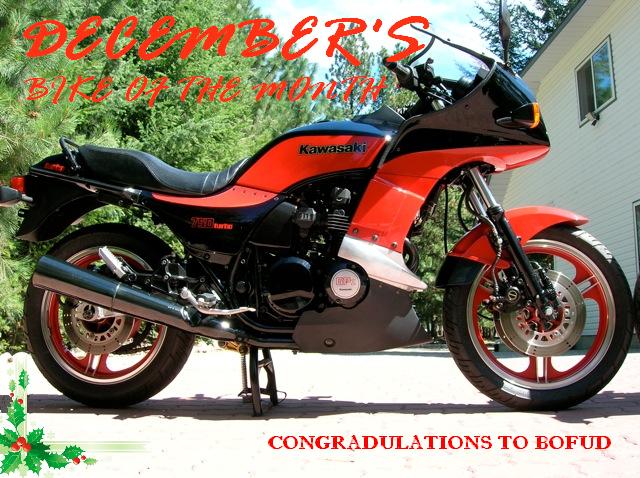 I am the second owner of this bike in a round about way.The original owner sold the bike to a friend of mine. He sold it to me 3 days later .He was at least 65 at the time,probably scarred him!I know there are some members that have turbos and know how they ride . A little quote from MOTOR CYCLIST - AUGUST 1983
" On the Salzburgring's long,kinked front straight, I was seeing an indicated 140 mph before terror got the best of me and I started braking for the 50mph ,180- degree bowl turn at the end.
 With two trustworthy riders of equal weight abord them,the turbo beat the GPz 1100 handily in rolling-start dragraces.The Turbowalked ahead of the 1100 by four to five bike lengths ,all the way through fifth gear"
Stats:
Air-cooled transverse 4-stroke in-line four---DOHC 2 valves,shim under bucket----738cc----comp  7.8:1----DFI ,30mm venturis----37mm Kayaba 5.1 in travel.
 LCD'S for sidestand,oil pressure ,battery, headlamp failure, fuel level-all computer controlled back in 1984 -ahead of its time.
 I got with the bike all original manuals ,2x3 poster and original Shoie helmet bought with bike in matching red. The bike was purchased in Hull, Quebec
Bofud



Last Updated on Saturday, 04 December 2010 03:48
Copyright © 2018 BC Classic Motorcycle Club. All Rights Reserved.